KENWOOD Calendars
Don't delay Order Your
2022 Kenwood Calendars Today.
The Calendar Order Deadline is October 1st.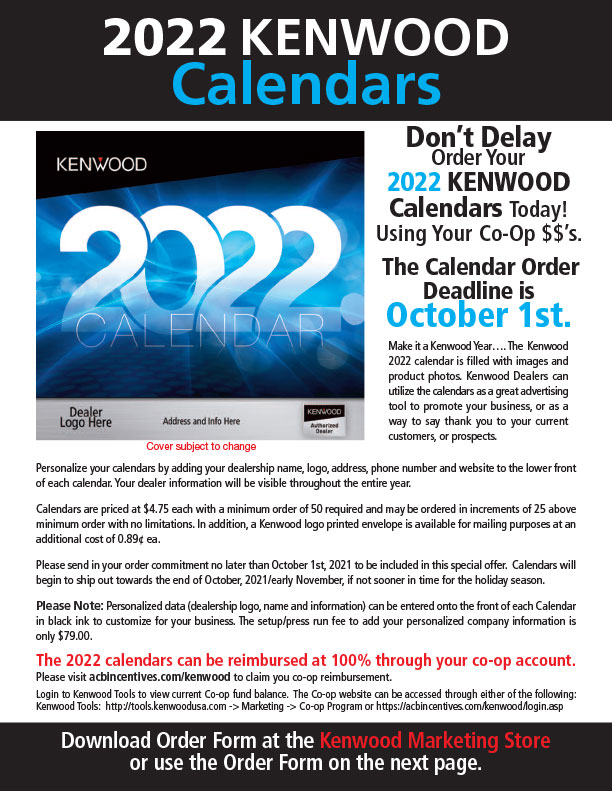 Make it a Kenwood Year…. The Kenwood 2022 calendar is filled with images and product photos. Kenwood Dealers can utilize the calendars as a great advertising tool to promote your business, or as a way to say thank you to your current customers, or prospects.
Personalize your calendars by adding your dealership name, logo, address, phone number and website to the lower front
of each calendar. Your dealer information will be visible throughout the entire year.
Calendars are priced at $4.75 each with a minimum order of 50 required and may be ordered in increments of 25 above
minimum order with no limitations. In addition, a Kenwood logo printed envelope is available for mailing purposes at an additional cost of 0.89 ¢ ea.
Please send in your order commitment no later than October 1st, 2021 to be included in this special offer. Calendars will
begin to ship out towards the end of October, 2021/early November, if not sooner in time for the holiday season.
Please Note: Personalized data (dealership logo, name and information) can be entered onto the front of each Calendar in black ink to customize for your business. The setup/press run fee to add your personalized company information is only $79.00.

The 2022 calendars can be reimbursed at 100% through your co-op account.
Please visit acbincentives.com/kenwood to claim you co-op reimbursement.

Login to Kenwood Tools to view current Co-op fund balance.
The Co-op website can be accessed through either of the following:
Kenwood Tools: http://tools.kenwoodusa.com -> Marketing -> Co-op Program or https://acbincentives.com/kenwood/login.asp
Please email [email protected] or call Steve at (714) 894-5520 if you have any questions.